No Smoking on the Beach
Smoking bans are now in effect on 24 of the most popular beaches in Thailand.
Not all kind of butts are a plus on the beach; while a butt in a bikini or a pair of trunks may brighten your day, cigarette butts do not. To avoid the undesirable butts, the authorities now ban smoking on 24 of the most popular beaches in Thailand.
The smoking ban on the beaches is an experiment expected later to apply to all Thai beaches. The ban not only applies to smoking while working on a tan during the daytime; smoking is also prohibited if you go for an evening stroll on the beach.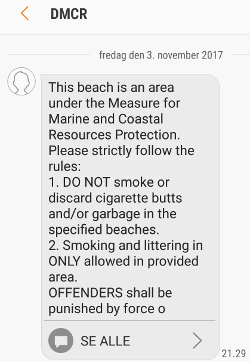 You may not see any signs at the beach informing you about the smoking ban; I have not managed to find a single sign about the smoking ban on Patong Beach. However, if you have a mobile phone with push messages activated, you may receive a text message about the ban; see the picture to the right.
To see how big a problem cigarette butts is, The Department of Marine and Coastal Resources (DMRC) examined the sand on a number of popular beaches. On Patong Beach, they combed nine square meters of sand to a depth of 10 centimetres; they found seven cigarette butts. When the department times that with the entire area of the beach, they figured that there must be more than 100,000 cigarette butts on the beach.
It may seem like a calculation based on a very thin foundation; however, no matter how many cigarette butts there are, it is, of course, nice to be able to get a tan without the neighbour bothering you with smoke. In addition, the sand is more attractive without cigarette butts.
At the smoke-free beaches, one or more smoking zones are available for smokers.
Violation of the smoking ban is punishable by a fine of up to 100,000 baht (100000 baht) and/or imprisonment for up to one year. The same penalty applies if you leave any other waste than cigarette butts on the beach. Unfortunately, you may not find many public trashcans in Thailand, so be prepared to bring your waste with you back to the hotel.
The affected beaches include:
Patong Beach on Phuket; Phra Ae Beach, Kor Kwang Beach and Khlong Dao Beach on Koh Lanta; Bo Phut on Koh Samui; Chalok Ban Kao on Koh Tao; Hua Hin Beach; Cha-am Beach, Pattaya Beach; Bang Saen Beach; Tham Pang Beach on Koh Si Chang north of Pattaya; Koh Khai Nok Beach and Koh Khai Nai Beach on Koh Yao; Mae Phim Beach; Laem Sing Beach in Chanthaburi; Khao Takiap Beach; Sai Ri Beach; Chalatas Beach; Tha Wa Sukri Beach.
Cigarette butts thrown into the water from boats are also a problem; therefore, the authorities are considering a ban on smoking on passenger ships and tour boats.