Getting Help in Thailand
Here you will find numbers and addresses in order to get help in Thailand.
Mishaps and accidents can happen whether you are at home or in Thailand. At home, you call a well-known emergency number, but what do you do in Thailand? Below you will find numbers and addresses that you can store on your mobile phone in case you need help. I may be a good idea to have some of them written down on a piece of paper in case you cannot use your phone.
By the way, consider getting a Thai SIM card for your holiday, it can be a lot cheaper than having to pay for roaming.
The Tourist Police: 1155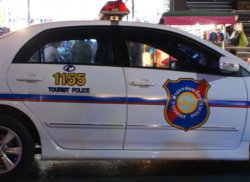 In all of the popular tourist areas in Thailand, you will find a police force, which specifically deal with issues involving tourists. The tourist police also enlist foreign expats who work voluntarily in order to help tourists.
The foreigners in the tourist police have no actual authority, but they can help you overcome language problems in communication with the Thais and they can also help you with other problems. For example, they know the laws and regulations, so they can help you through the system. Usually, they are on your side when there are problems with Thais or the Thai system.
The tourist police also often act as arbitrator in a conflict so that it can be resolved outside of the court system. For example, if you are accused of theft or if you are involved in a traffic accident. In Thailand, it is very common to solve problems by negotiation instead of using the slow judicial system.
The Police: 191 and 911
If you are not in a tourist area, there is no tourist police, in which case you can contact the ordinary police. Be prepared that you may have a problem communicating with them, as they may not be able to speak or understand English.
Like the tourist police, the ordinary police also often act as an arbitrator in a conflict. However, they may be more likely to be on the side of a Thai. Please note that when the police act as an arbitrator, it is common also to pay the police. Usually, this is not paying a bribe; you are paying for their role as arbitrator.
Ambulance: 1669
The Fire Department: 199
Roadside Assistance
If you rent a car in Thailand, you should check whether the rent includes roadside assistance. If so, get a phone number to the roadside assistance from the car rental, and keep it along with the other important numbers. You should also check whether your travel insurance covers roadside assistance.
Travel Insurance
It is very important that you have contact information for your travel insurance on your person, either on paper or in a form of a card from your insurance company. Should you have an accident and you are unable to communicate, the hospital can find the contact information and learn that you have coverage. This can save your life, as you cannot be certain that a hospital will treat you if you do not have insurance. It can also mean that the ambulance driver will drive you to a private hospital with better equipment instead of the public hospital.
Your Embassy
Your national embassy in Thailand can help you if you need a new passport; if you are arrested or imprisoned by the police; in the case of grave illness or death; etc. You can find contact information for your embassy at GoAbroad.com.
Credit Card
If you lose your credit card, it is important that you report it to your credit card issuer as soon as possible. Acting fast limit your liability and limit your losses. Find the contact information at your bank's website. You can read about how to handle credit card fraud and how to avoid credit card fraud at FTC Consumer Information. Those are the rules for the USA; however, most countries have similar rules.
Lawyer
If you need a lawyer, you can find one at the British Embassy's website, where you will find a list of reputable lawyers who speak English.