E-cigarettes in Thailand
It is illegal to bring electronic cigarettes and e-liquids to Thailand.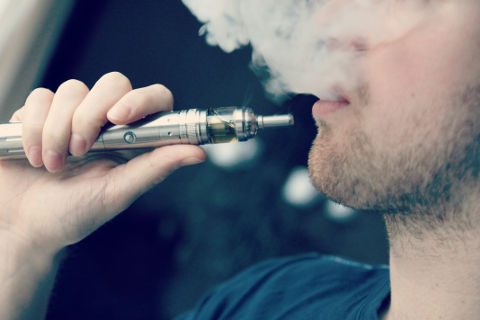 Copyright: Vaping360, released under Creative Commons 2.0.
Smoking is dangerous to your health, and vaping can be a less dangerous solution. Although, not in Thailand. In Thailand, import, possession and sale of e-cigarettes and e-liquids are strictly prohibited; thus bringing your electronic cigarette to Thailand may not be a good idea.
If caught in the customs, they will confiscate the e-cigarette and e-liquid, and you get a fine. You even risk arrest and jail time, as the punishment is up to five years in prison for users and up to 10 years in prison for dealers. A Thai prison is not a place you want to spend your time; it will be an experience you remember for the rest of your life.
It is not only in the customs there is a risk of being caught. If you make it through the customs, the police may arrest you if they see you vaping on the street or at your hotel. Please be aware, that it is not vaping as such that is illegal, it is the possession of e-cigarettes and e-liquids. If a police officer sees an e-cigarette in your shirt pocket, he may arrest you.
The solution is to resort to nicotine patches, smoke real cigarettes, or take a "cold turkey" on your vacation.
Or, you can take the chance.
As with so many other laws and regulations in Thailand, the customs officials and the police only do something if they care. Just as you can see the police ignoring people driving a scooter without a helmet, they may ignore you vaping. Nonetheless, sometimes they actually do care about making people obey the laws. If you take the chance and bring your e-cigarette and e-liquid to Thailand, it would probably be a good idea to limit vaping to your hotel room.
According to the British Foreign and Commonwealth Office, several tourists have been arrested for possession of vaporisers and e-cigarettes in Thailand.