About Go, Travel to Thailand
Why the site came to be and who I am.
My name is Kim Ludvigsen; I am a retired journalist and author from Denmark. Writing is essential for me, and as I do not get to write for a living, I had to find something to write about in my retired years. Writing about Thailand was an obvious choice, as I spend a good part of the year in Thailand in order to get away from the Danish winter.
I like to travel around to see different places, both the usual tourist places and places where they hardly have seen a white man before. I started going around by flight, bus, and train but now I mostly drive around on my scooter.
I started out writing in Danish, but I then decided that I want to improve my written English by making an English version of the Danish site. If you wonder about the strange use of words in the articles, then it is because I am still learning.
As of now, I have only translated a few articles - much more will follow.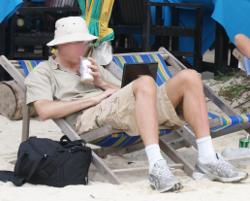 Always hard working, writing articles – even in 34 degrees Celsius/93 degrees Fahrenheit at a beautiful beach at Phi Phi Don. Sorry for the blurred out face, I am a very private person.
If you want to contact me for suggestions for the site, or if you have questions, please write to me at kim@gotravelthailand.com.