Maeklong Market
Maeklong Market is arguably the weirdest market in the world.
You will find numerous markets in Thailand; however, some of them are a bit weird like the floating markets and not the least Maeklong Market. You will find Maeklong Market in the province Samut Songkhram, about 70 km (45 miles) south-west of Bangkok. The market is located not by the railway tracks but on the railway tracks.
Maeklong Market offers clothing as well as freshly caught fish, fruit, vegetables and dried spices. Above the stalls, large tarps give shade for the sun and protect against rain. When a train arrives, the sellers clear the rails, and they pull the tarps aside to give room for the train.
You will find Maeklong Marked just outside Maeklong train station, which is the last stop on a small single-track railway. There is only four daily arrivals and departures; thus, if you want to see the train going through the market, you need to plan when to be there. You will find timetables later in this article.
When planning my visit, I didn't know the timetables; thus I didn't get to see the train passing by, although I did get to see a small cart going through the market:
The real train is a bit more impressive, as you can see in this video:
How to get to Maeklong Marked
You can drive to Maeklong Marked, or you can take the train. Taking the train from Bangkok to Maeklong and back is a full day excursion. You need to take two different trains and a ferry.
This article contains prices in Thai baht and in the currency of your choice. The exchange rates are the latest rates from Bank of Thailand ().
The current currency is baht; the exchange rate is 100 baht = 100 baht.
Choose another currency:
We save your choice in a cookie to remember it for other articles.
The first part of the trip by train from the train station Wong Wian Yai in Bangkok to Mahachai (also known as Samut Sakhon) takes about an hour. Then you have to cross the river Tha Chin to Ban Laem on a small ferry, a trip lasting only a few minutes.
Then, finally, you have to take the train from Ban Laem to Maeklong, which takes about an hour.
If you arrive by train, you will of course not be able to take photos of the train going through the market; thus, you will have to wait for the train to leave the station to take photos and then head back to Bangkok on the next train a couple of hours later.
Alternatively, you can hire a taxi for the whole day for a tour; you should be able to do that for 2,000-3,000 baht (2000-3000 baht).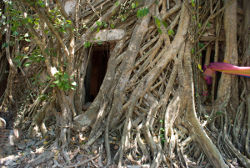 Hiring a taxi also makes it possible for you to go sightseeing in the area. Not far away from the market, you will find a Sleeping Beauty Temple, that is, a temple in a tree (Wat Bang Kung).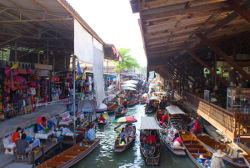 In addition, you can visit several floating markets where vendors hawk their goods from small boats on the river. The biggest and most famous floating market is Damnoen Saduak Floating Market; however, Amphawa Floating Market, which is closer to Wat Bang Kung and Maeklong Market, is also worth a visit.
Timetable and opening hours
Besides the timetable for the trains, you need to be aware of the opening hours for the market and the other places you want to visit.
The train from Bangkok to Mahachai runs roughly every hour. The train from Ban Laem at the other side of the river only runs four times a day, departing 7:30, 10:10, 13:30, and 16:40. Please be aware that the trains in Thailand are not known for their punctuality; thus, be sure to have plenty of time to cross the river and to catch the train from Ban Laem.
The train arrives in Maeklong at 8:30, 11:10, 14:30, and 17:40. The four departures are 6:20, 9:00, 11:30 and 15:30.
The ferry departs 3-4 times per hour during daylight hours. The whole trip from Bangkok to Maeklong will cost you less than 25 baht (25 baht) per person plus the transport to and from the station Wong Wian Yai in Bangkok.
The market in Maeklong is open from approximately 7:00 to 17:30 daily (7 AM to 5:30 PM). GPS to Maeklong Market: 13.407409, 99.998974.
Wat Bang Kung is open every day from around 8 o'clock in the morning. Depending of the number of visitors, they close late afternoon or early evening. GPS to Wat Bang Kung: 13.445189, 99.941481.
Damnoen Saduak Floating Market is open every day from 7 to 13 (7 AM to 1 PM). The best time to visit is in the morning between 8 and 10 on weekends, where there are more sellers. GPS to Damnoen Saduak Floating Market: 13.520193, 99.959306.
Amphawa Floating Market is open Friday from 16:00 to 22:00 (4 PM to 10 PM), and Saturdays and Sundays from 12:00 to 22:00 (12 midday to 10 PM). GPS to Amphawa Floating Market: 13.425967, 99.955083.