Cosmetic Procedures in Thailand
You can probably save a lot of money by getting cosmetic surgery and other cosmetic procedures in Thailand.
Thailand is not only a popular destination for tourists who want to enjoy the beaches, the culture, and the nightlife. Thailand is also a popular destination for cosmetic surgery and other cosmetic procedures. The cosmetic procedures can be very cheap in Thailand while still on par with treatments in your own country; as an extra plus, you can pair the treatments with a holiday amongst palms and beautiful beaches.
In addition, it can be advantageous to have cosmetic surgery abroad rather than at home; for example, a bandage on the nose may be less of a problem in a place where no one knows you.
The wages in Thailand are low compared to many other countries; thus, you can often get a cosmetic procedure for less than half of what it costs at home. And that is the case whether you want larger breasts, liposuction, a hair transplant or a nose job. Dental work and getting a tattoo can be very cheap too; read about the latter in the article Getting a Tattoo in Thailand.
The Quality is Top Notch
Typically, the quality of the cosmetic procedures is the same as in the west; however, in some cases, the quality may be better; for example, Thai surgeons have extensive experience with breast augmentation, sex change, and nose jobs.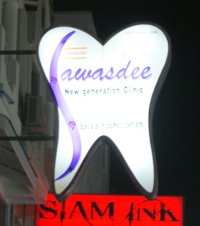 When you compare prices, please be aware that in some countries, you get a subsidy from the health care system, and if you have a health care insurance, they may pay part of the treatment too. Typically, they only pay if you get the treatment at home.
Furthermore, you should check what the prices include when comparing. In Thailand, typically, everything is included; thus, the price at the dentist usually includes feasibility study, X-ray, and anaesthesia.
Special Tourist Prices
The savings on the various treatments may not be as much as they could be. Clinics aimed at tourists often charge more than clinics aimed at Thai people. Nonetheless, they may be a better choice, as the standard may be higher, and you will probably be able to communicate in other languages than Thai.
Some of the clinics may have dual pricing, meaning that a tourist pays more than a Thai for the same treatment. I suggest you avoid those places; although, it can be difficult to figure out whether they have dual prices, as they may have separate price lists for tourists and for Thai patients.
Please note that some procedures mean that you cannot bathe or stay in the sun. Therefore, you should plan your stay, so you have time to enjoy the sun and the beaches before the procedure.
Besides cosmetic procedures, you can usually save money when you buy glasses in Thailand, and, typically, the opticians deliver them from day to day. Although, if you want a western branded product, it may be more expensive in Thailand than at home. You should check prices at more than one optician before buying as the prices may vary quite a bit.