A Lovely Boat Trip on Mae Kok
Enjoy the beautiful nature on a boat trip to Chiang Rai by the river Kok.
If you want to visit Chiang Rai in northern Thailand, you should arrive on the river Kok in a long-tail boat from Thaton (in Chiang Mai province). It is a lovely boat trip, and you can enjoy the beautiful scenery of the river and of the jungle and mountains on the way.
This article contains prices in Thai baht and in the currency of your choice. The exchange rates are the latest rates from Bank of Thailand ().
The current currency is baht; the exchange rate is 100 baht = 100 baht.
Choose another currency:
We save your choice in a cookie to remember it for other articles.
From Chiang Mai (the city), you take the bus to Thaton. It is a 3½-4 hour trip , and if you take the regular bus at Chang Puak bus station, prepare to be shaken due to the condition of the road and the bus. Your intestines may prefer a VIP bus.
The long-tail boat departures from Thaton every day at 12:30 (12:30 PM), but be sure to come an hour or so earlier to go sightseeing in Thaton. Here's a view of the river from a temple complex on a hill near the river station.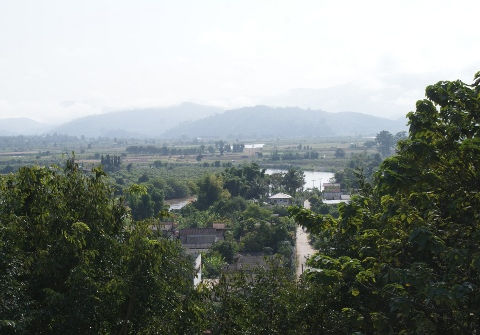 The trip from Thaton to Chiang Rai costs 350 baht (350 baht) per person. The boat is also used as a bus/freight boat by locals who live by the river, as well as by tourists who stay at one of the resorts along the river.
Notice: I have been told that the daily route no longer exists; instead, you have to hire a long-tail boat for a private tour. Hiring a boat is more expensive, especially if you cannot share the fare with other travellers. Usually, the boats have room for six passengers, and the price from Thaton to Chiang Rai is between 2.500 and 3.000 baht (2500 and 3000 baht).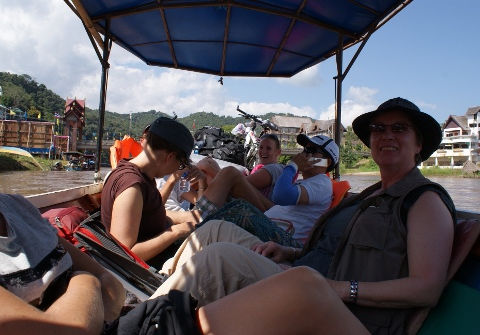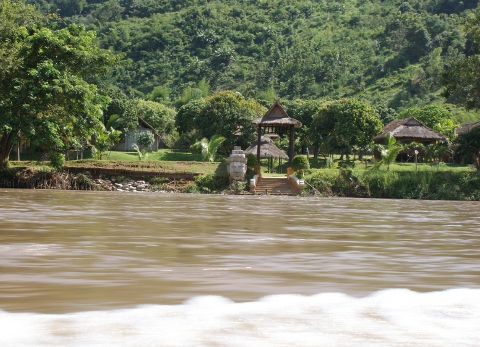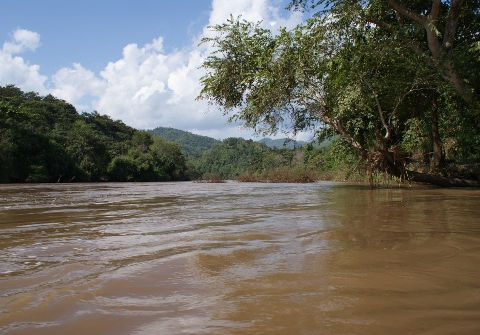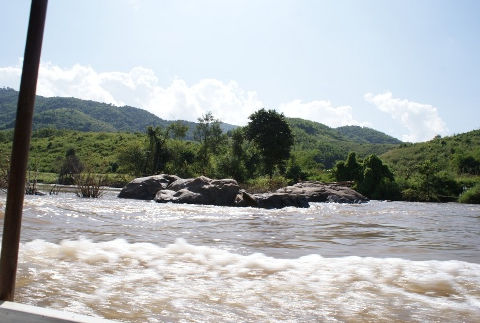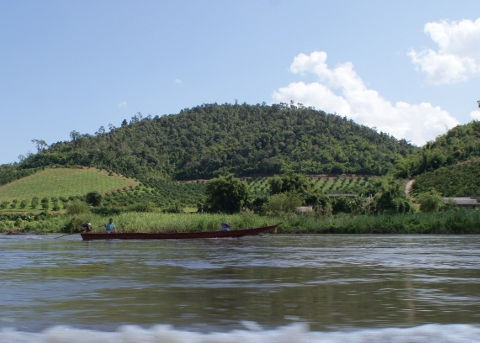 You may be lucky to see elephants having a bath on the way, and some days the boat stops along the way so you can buy beverages and get something to eat; however, either our captain was in a hurry that day or the shops closed.
Please note that when you arrive in Chiang Rai, you will arrive on the outskirts of the city. Usually, songthaews are waiting to bring you to the city, or you can hail one at the road crossing the river.
If you want to go back to Chiang Mai, I will recommend a VIP bus; it costs about 300 baht (300 baht). Some of the VIP buses have TV screens at each seat as in a long-haul aircraft.