Getting a Tattoo in Thailand
Many choose to get a tattoo on their holiday in Thailand.
Getting a tattoo can be a lot cheaper in Thailand than in most other countries.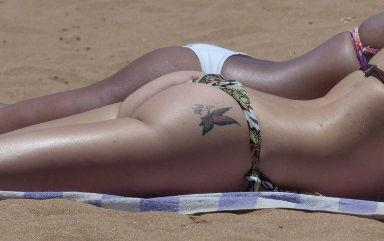 At many of the tourist spots in Thailand, you will find a large selection of tattoo parlours. The prices are typically less than half of what a tattoo artist with the same experience and skill will want in other countries, whether you want a small tattoo on the bum, a sleave or a large back tattoo.
But before you get a tattoo in Thailand, there are some things you need to be aware of:
A tattoo is for life


You should only get a tattoo after careful consideration; in addition, think carefully about which motive you want, and on which part of the body you want it. You should never get a tattoo on a sudden impulse or because of group pressure from your friends or from a girlfriend or boyfriend.

Find the right tattoo artist


Search the web for tattoo artists at your holiday resort (preferably before your holiday). Take a look at their drawings and the photos of their previous work to see if you like a particular tattoo artist's style and skills. However, do not let the pictures or the price be the deciding factor. Search the web for other customers' experiences. When you find an artist you like, talk to him about the work you want and about the hygiene; see the next point.

Hygiene


There are not many rules for tattoo parlours in Thailand, but they must use sterile equipment, and they is not allowed to reuse needles etc. The tattoo artist must ask about the health of the customers; he is not allowed to tattoo people with diabetes or with haemophilia. In addition, he must instruct the customers on how to treat the tattoo to avoid infections.
However, if you have been in Thailand for more than a few days, you know that quite a few Thai people do not take rules and prohibitions too serious. Therefore, ask the tattoo artist about the hygiene, how he cleans the needles and other equipment before use. And try to judge from the answers whether he is trustworthy. Also, search the web for other people's experience with the hygiene of the tattoo artist in question.

Check out foreign languages


If you choose a tattoo with a text in a foreign language, do yourself a favour and double check whether it means what you think it means. There are quite a few who go around with "funny" text on their body. One of the more well-known examples is Ariana Grande, who wanted a tattoo saying "7 rings" in Japanese; however, she ended up with a name for a small BBQ grill.

Avoid tattoos with Buddha


You may think that Buddha is an obvious motive choice for a tattoo you get in Thailand. However, many Thais frown upon tattoos of Buddha, especially if it is below the waist. The tattoo artist may not mind making such a tattoo; nonetheless, it would be best to cover it up while in Thailand and other Buddhist countries.
The Ministry of Culture in Thailand has long been working to stop tattoos of Buddha; however, there is not yet a law banning tattoos of Buddha. If you have a visible tattoo of Buddha, certain Buddhist countries, such as Myanmar and Sri Lanka, may refuse entry.

Just before, you get the tattoo


Avoid taking aspirin or other medicines that can dilute the blood for 24-48 hours before you are tattooed. Otherwise, you risk bleeding more than necessary during the tattoo. Also, avoid drinking alcohol and coffee during the same period, as it also can dilute the blood.

After getting the tattoo


The price of getting a tattoo in Thailand and the tattoo artist's skills is a plus; however, getting a tattoo while on holiday in Thailand comes with some minuses as well. While the tattoo is healing, you need to avoid bathing in the sea and swimming pool, and you need to avoid direct sunlight. You should stay away from the beach while healing to reduce the risk of infection. Without the beach and the sun, the holiday in Thailand may not be quite what you wanted. Typically, it takes three to four weeks for a tattoo to heal.