Buying Medications in Thailand
The Thai pharmacies do not always care whether or not you have a prescription.
The prescription rules are not as strict in Thailand as in many other countries. Even if you need a prescription for the drug in your country, you may be able to buy the drug over the counter in Thailand. If you need a prescription for the drug in Thailand too, you may still be able to buy the drug over the counter – if not in one pharmacy, then perhaps in the next. If that fails, it is not difficult to get a prescription from a Thai doctor.
If you want to know whether or not you can bring your own medication on your trip to Thailand, please read the Bringing your Medications to Thailand article.
In some countries, the prices for drugs are fixed and thus the same in all the pharmacies. In Thailand, the pharmacists can set the prices themselves. This means, the drugs you buy at a pharmacy in a tourist area may cost 2-4 times more than if you buy the same drug in a pharmacy elsewhere. This applies to over the counter drugs as well as to prescription drugs.
Usually, you do not need to worry if the drug you want is available in Thailand. In case the brand of your medicine is not the same in Thailand as in your country, most of the pharmacies can look up the name in your country and then find the Thai name for the same drug or they can find a similar drug.
Viagra, Kamagra, Cialis...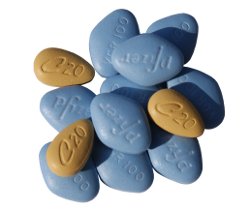 While the regular tourists perhaps visit the pharmacy to buy sunscreen, aspirin or common medications, some tourists may be more interested in condoms and sexual enhancement products.
However, before you buy Viagra or similar in Thailand, you should consider why you are required to have a prescription for those in your country – and indeed in Thailand as well. Sexual enhancement pills are not dangerous for healthy people; however, they can be fatal if you have certain health problems – problems that you may not even be aware that you have.
Another problem with sexual enhancement pills is the doses. Typical, in Thailand, Viagra and similar are sold in the highest possible doses, which means that they are too powerful if you do not have erectile dysfunction. The high dose will not result in a better effect for a person without erectile dysfunction; it will only lead to more or stronger side effects. Thus, if you do want to take sexual enhancement pills, you should cut the pills into two, three, or even four parts. That way they will correspond to the lower doses, which is more than ample for men without erectile dysfunction.
In the tourist areas, you will find street vendors offering Viagra or similar drugs. Do not buy from the street vendors! The pills may very well be counterfeit pills which either has no effect or which may even be dangerous. You should only buy drugs at a pharmacy. Even though a prescription is required for buying sexual enhancement pills at a pharmacy, you will usually have no problem buying them without a prescription.
In addition to the original products like Viagra and Cialis, you will find generic versions imported from India. These have different brand names; Kamagra (also available as gel capsules) is the Indian version of Viagra, while Apcalis is the Indian version of Cialis.